Hervey Bay Disability Access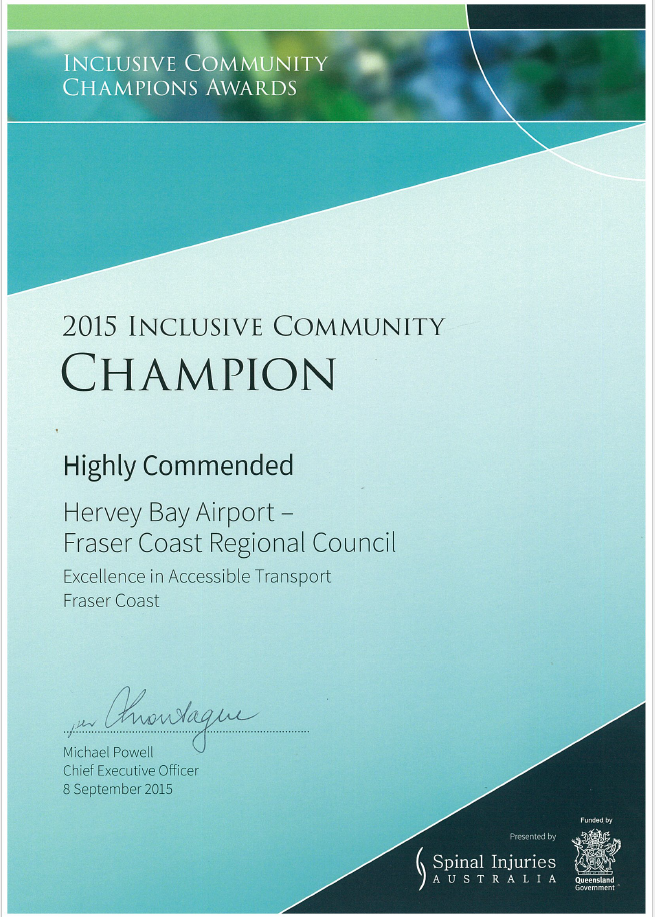 A Disability Access Facilitation Plan has been developed for Hervey Bay Airport.
Version 3 of the Plan is available here.
The primary purpose of the Disability Access Facilitation Plan is to advise passengers with disabilities of:

the service measures Hervey Bay Airport will take to ensure access for passengers with disabilities, and



how passengers with a disability can assist the airport and/or the airline to be best placed to provide an appropriate service (e.g. provision of information prior to travel).

Hervey Bay Airport has been Highly Commended in the 2015 Inclusive Community Champion Awards for the Fraser Coast Region by Spinal Injuries Australia.
PLEASE NOTE:

THERE ARE NOW THREE DEDICATED DISABILITY DROP-OFF SPACES IN THE PASSENGER DROP-OFF AREA. VEHICLES WITH VALID DISABILITY PERMITS MAY REMAIN FOR UP TO 20 MINUTES.